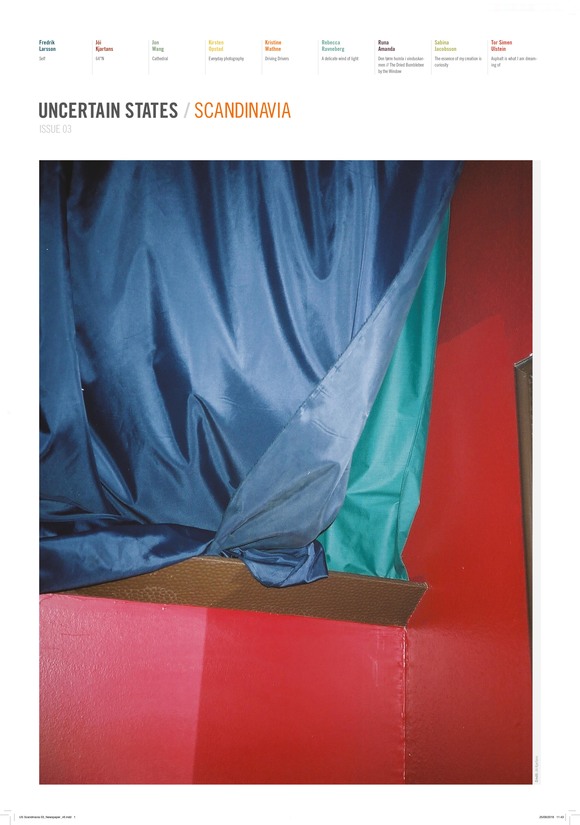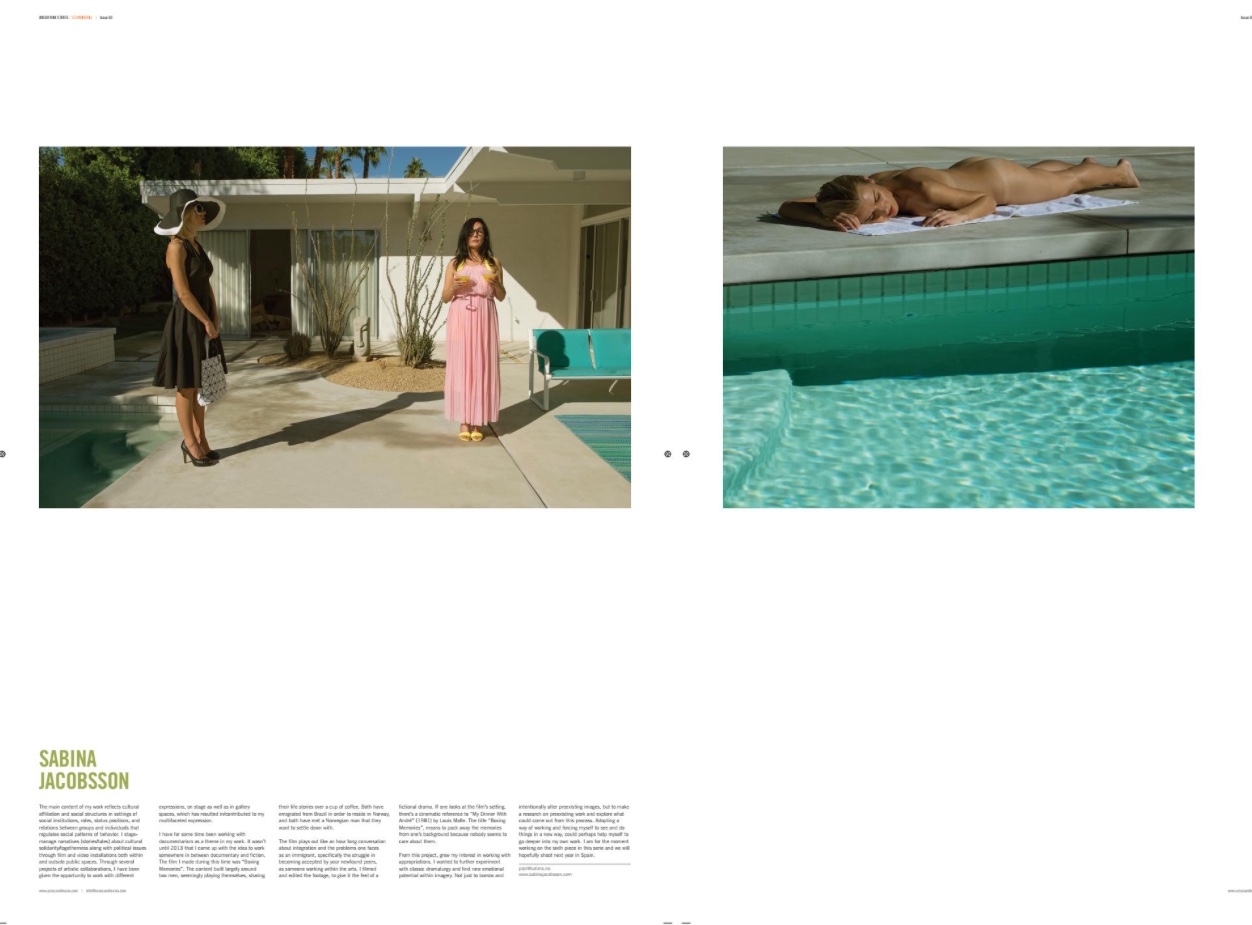 The main content of my work reflects cultural affiliation and social structures in settings of social institutions, roles, status positions, and relations between groups and individuals that regulates social patterns of behavior. I stage- manage narratives (stories/tales) about cultural solidarity/togetherness along with political issues through film and video installations both within and outside public spaces. Through several projects of artistic collaborations, I have been given the opportunity to work with different expressions, on stage as well as in gallery spaces, which has resulted in/contributed to my multifaceted expression.
I have for some time been working with documentarism as a theme in my work. It wasn't until 2013 that I came up with the idea to work somewhere in between documentary and fiction. The film I made during this time was "Boxing Memories". The content built largely around two men, seemingly playing themselves, sharing their life stories over a cup of coffee. Both have emigrated from Brazil in order to reside in Norway, and both have met a Norwegian man that they want to settle down with.
The film plays out like an hour long conversation about integration and the problems one faces as an immigrant, specifically the struggle in becoming accepted by your newfound peers, as someone working within the arts. I filmed and edited the footage, to give it the feel of a fictional drama. If one looks at the film's setting, there's a cinematic reference to "My Dinner With André" (1981) by Louis Malle. The title "Boxing Memories", means to pack away the memories from one's background because nobody seems to care about them.
From this project, grew my interest in working with appropriations. I wanted to further experiment with classic dramaturgy and find new emotional potential within imagery. Not just to borrow and intentionally alter preexisting images, but to make a research on preexisting work and explore what could come out from this process. Adopting a way of working and forcing myself to see and do things in a new way, could perhaps help myself to go deeper into my own work. I am for the moment working on the sixth piece in this serie and we will hopefully shoot next year in Spain.
UNCERTAIN STATES / SCANDINAVIA
We welcome everyone to join us at Uncertain States Scandinavia's third release party, but the first one in Denmark!! We are so happy to be launching at Kvit Gallery in Copenhagen, we will deliver the usual beer, cigarettes, chatter and a big stack of newspapers.

ISSUE 03:
FREDRIK LARSSON´s appealing images are about how we choose to perceive ourselves and how easily we manipulate the self-image JÓI KJARTANS´ intuitiveness has resulted in a hell of a lot images and the project is called 64° the unbeliever JON WANG has honored the small and charactheristic buddhist shrines you find here there painter and poet KIRSTEN OPSTAD uses her old phone camera to capture everyday magic KRISTINE WATHNE barges in to people´s private space in their vehicles REBECCA RAVNEBERG reveals a broken and/or recovered heart and we love her poetic imagery RUNA AMANDA dazzles you with young adultness, pastel colors and clever messages in her book SABINA JACOBSSON is another cinematographer who also likes to express herself with the medium photography and our own TOR SIMEN ULSTEIN has his own way of photographing the landscape

KVIT is a gallery and artist Workspace located at Blågaardsgade 31 in Copenhagen.

UCS Scandinavia are primarily an artist-led project that publishes and distributes a free quarterly broadsheet newspaper showing lens-based-art. Formed in 2016 by Tor Simen Ulstein, Astrid Gjersøe Skåtterød and Charlie Fjätström For all enquiries email info@ucsscandinavia.com

------------------

(Norwegian)Den 8. oktober er du hjertelig velkommen til å være med oss å feire den tredje utgaven av Uncertain States Scandinavia. Vi er for første gang kommet oss over vannet og ned til København, hvor vi viser den rykende ferske utgaven på galleri Kvit i blågaardsgade 31. Her blir det servert øl og røyk i godt tro, og avisene vil ligge i haugevis, å du kan ta med så mange du ønsker.

Utgave 03:
FREDRIK LARSSON sine pene fotografier handler egentlig om hvordan vi velger å bli sett og ser på oss selv og hvor lett vi manipulerer det vi ser JÓI KJARTANS har en intuitiv sjel som resulterer i en helvettes mange bilder og et prosjekt som heter 64° agnostikeren JON WANG viser små og karakteristiske buddistiske helligdommer ærbødighet maleren og poeten KIRSTEN OPSTAD utforsker hverdagsfotografiet med sitt gamle mobilkamera KRISTINE WATHNE bryter intimgrensen, eller skal vi kalle det intimsonen, med hennes bilder av folk i sine private biler REBECCA RAVNEBERG avslører en sorgens historie og vi elsker hennes poetiske bildeutrykk SABINA JACOBSSON er også en filmfotograf som bruker fotografi til å utrykke segselv med og vår egen TOR SIMEN ULSTEIN bryter landskapsfotografiets norm ved å ta inn elementer som asfalt.

KVIT Galleri er både et galleri og et studio for kunstnere som ligger i Blågaardsgade 31 i København.

Uncertain States Scandinavia er et prosjektet ledet av kunstnere som publiserer og distribuerer en gratis storformat avis som viser objektivbasert kunst. Den gies ut 4 ganger i året og ble dannet i 2016 av fotografene Tor Simen Ulstein, Astrid Gjersøe Skåtterød og Charlie Fjätström. Kontakt oss gjerne på mailen info@ucsscandinavia.com